other
/ realization / 2011 / Patio of the Red pif restaurant and wine bar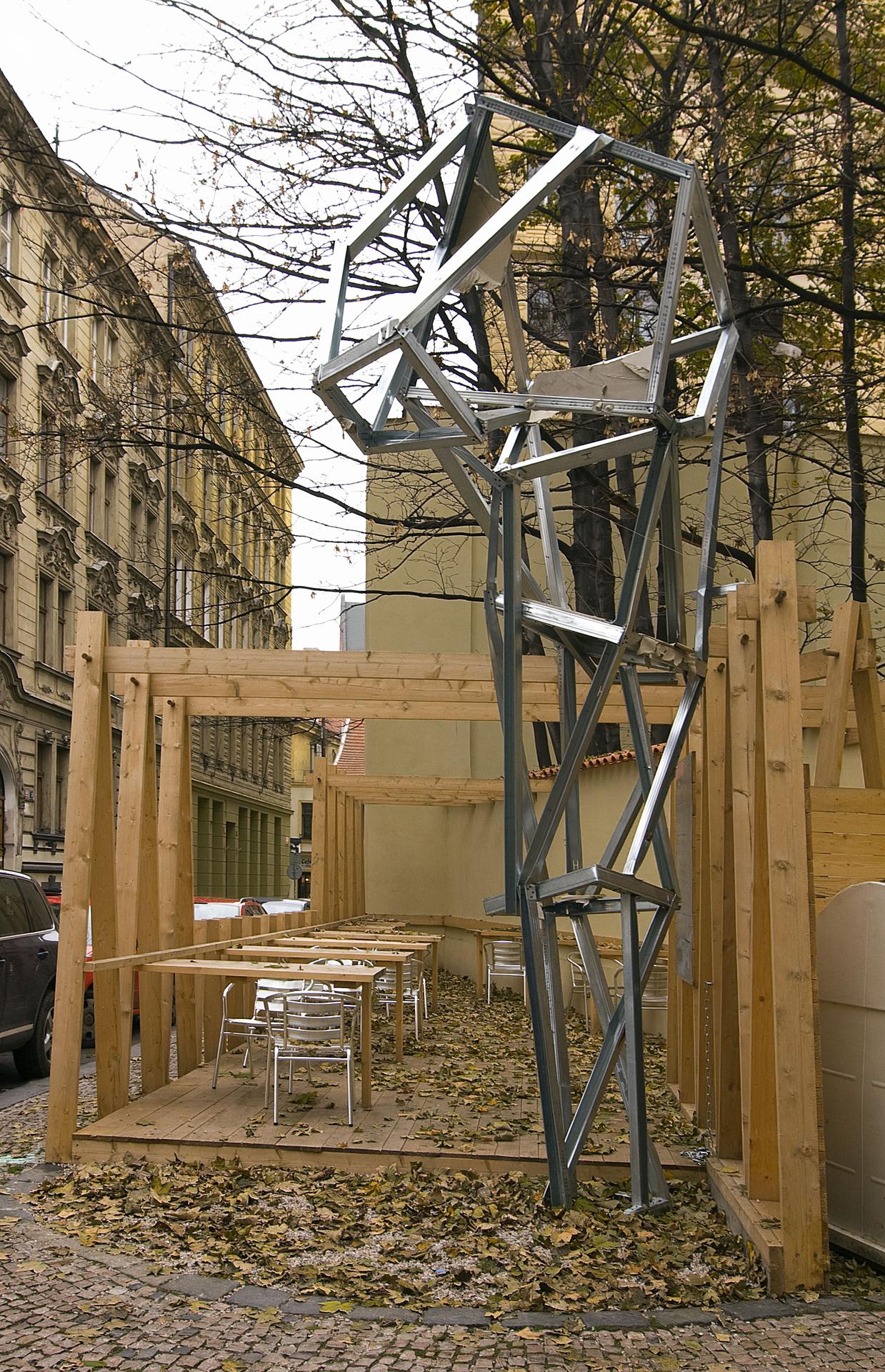 Patio of the Red pif restaurant and wine bar
Architects: Jakub Fišer, Petra Skalická - Aulík Fišer architekti
Investor: K4wines s.r.o.
Address: U Dobřenských 1, Praha 1
Web: www.redpif.cz
Site: Street corner of Betlémská and U Dobřenských, Praha 1 – Old Town
Realization: 07/2011
Photos: AI photography
On the corner of Betlémská and U Dobřenských street along the courtyard wall of the Naprstek's museum there was a small triangular shaped place of approximate size of 13 x 5 meters. About a year ago when we were working on the wine bar interior in the piano nobile of the house across the street the triangle was a forgotten place with any potential use – a messy place for recyclable waste bins with an unpleasant smell.
This year we designed the wine bar patio. After the agreement of the site owner we made a symbolic enclosure from raw planks and a peaceful corner appeared. You may sit there under the full-grown maples trees in the town centre. The client enthusiastically liked our idea to allocate works of young artists near the entrance. Together with the Jaroslav Fragners Gallery we agreed to place the statue called Sadrokarton story by Jakub Jurásek. In two days the patio was built almost self-helped and ready to use.
What has followed clearly demonstrate the discussion of public space in the city. The tourists are excited – they stop, have a glass of wine, take some pictures and relax. The locals sign petitions to dismantle the patio. They call the statue The vomiting horse. The authorities don't like it either. There is no more client's courage left to let graffiti artist Pasta paint the wall with french wine names. A corner full of shit didn't bother anyone but the patio disturbs almost everyone.. what's better?